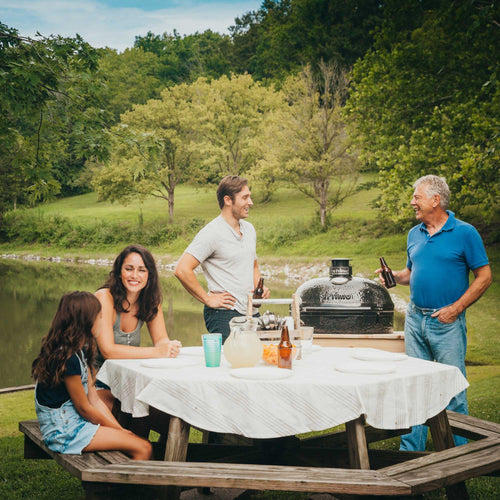 The smoky, wood-fired flavour of barbecue food is irresistible. Cooking over glowing coals or fragrant wood infuses food with a primal, mouthwatering taste that brings people together.
We offer some of the finest barbecues and BBQ smokers available in the UK. The GrillSymbol Smoky Beast and Chef BBQ series are perfectly designed, made from the finest materials, and look stunning! They are crafted from durable corten and stainless steel to last for years.
The Smoky Beasts are versatile, switching easily between a BBQ smoker and a charcoal barbecue grill.
The Bonfeu Bonbiza Plancha takes barbecuing to the next level. With its integrated grill and plancha plate, this BBQ multitasks to sear, sizzle, and smoke food to perfection. The Bonbiza Plancha truly excels at creating an unforgettable barbecue experience.
Converting your existing fire pit into an occasional fire pit BBQ grill is easy with the right accessories and saves space over buying a separate barbecue. After cooking up a storm on your fire pit and BBQ combo, add more logs and convert back to a cosy fire pit. Transform your outdoor space with this clever 2-in-1 fire pit and BBQ grill combo for the ultimate flexibility.
Barbecues