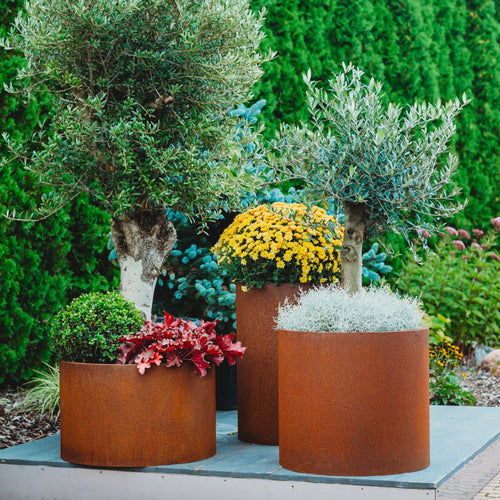 Looking for a garden storage solution that's as stylish as it is durable? Look no further than our selection of corten steel and hardwood planters. 
These materials offer the perfect combination of longevity and aesthetics, and are the ideal choice for anyone looking to add a touch of elegance to their outdoor space.

Our GrillSymbol and Adezz planters are carefully crafted to ensure both quality and durability. With a range of sizes and styles available, you can choose the perfect planter to suit your needs. Plus, these planters look stunning when paired with our range of corten fire pits and barbecues, adding a touch of sophistication to any outdoor area.

For a more contemporary look, our Blinde Design concrete composite planters are the perfect choice. Available in three different colours and six different stitch options, these planters perfectly complement our Ecosmart Fire range of indoor and outdoor bioethanol fire pits. With these beautiful planters, you can create a warm and inviting atmosphere in any space.

Planters: Corten Steel Hardwood and Concrete Composite