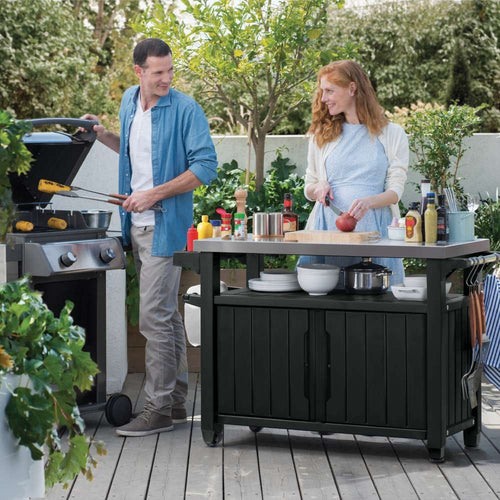 Whether you're hosting a party or grilling with family, we have the perfect products to make food preparation and entertaining easy.

Our collection includes the Keter Unity Stainless Steel BBQ Table Top, a large and versatile table for outdoor entertaining. It has a built-in cupboard for storage and is made from weather-resistant resin. The Keter Unity Chef Outdoor Kitchen is an all-in-one solution for outdoor parties and barbecues.

The Keter Bevvy Bar is a party essential, serving as a beverage cooler, drinks table, and food station all in one. Its rattan-effect finish adds a touch of style to your outdoor space. The Keter Coolbar with Lights is a weather-resistant bar unit perfect for keeping drinks cool and providing a bar table and lighting.

Shop our collection now and make food preparation and entertaining a breeze in your outdoor space!
Food & Drink Prep